Bank Teller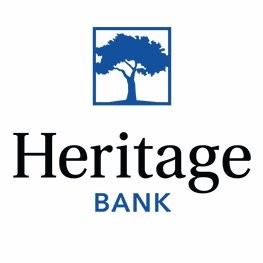 Heritage Bank
Burlington, WA, USA
Posted on Saturday, October 14, 2023
Base Salary Range:
Level I - $17.43 - $19.61 - $21.79 per hour
Level II - $17.52 - $20.59 - $23.66 per hour
Depending on qualifications and experience, Customer Service Associate (Bank Teller) I or II may be considered.
At Heritage Bank, we work hard, but also know how important it is to take time off to stay healthy, relax, and spend time doing what makes your heart happy!
As part of our team you'll enjoy a total rewards package, which includes base salary based on the role, experience, and skill set, along with an exceptional benefits package (medical, dental, vision, life insurance, 401(k), community volunteer time), and generous time off policy. Full-time team members receive a minimum of 10 paid vacation days annually* and eight hours of paid sick leave per month*, while also enjoying 11 paid holidays each calendar year, and an annual float day. *pro-rated from start date and/or hours worked. To view Benefits Summary: Apply > Current Openings > position > attachment.
Position Overview:
Heritage Bank currently has an exciting opportunity to join our organization!
The Burlington Branch is seeking a Bank Teller to help customers meet their financial goals by providing exceptional customer service handling routine financial transactions and actively support branch sales efforts by identifying customer needs and suggest solutions through referrals.
This position is Full Time, 40 hours per week; typical schedule is Monday through Friday 8:45 a.m. to 5:15 p.m. Flexibility is required to work as needed to ensure adequate staffing for training or employee absences.
Requirements:
Level I - 6 months cash handling and customer service experience.
Level II - 1 year recent cash handling and customer service experience in a financial services industry.
Detail-oriented with strong organizational and problem solving skills.
Demonstrated ability to provide an exceptional level of customer service.
Demonstrated math skills with an understanding of debit and credit relationships and negotiable instruments.
Gains working knowledge of, and ensures bank activities, and job responsibilities are performed in compliance with, all state and federal banking laws and regulations.
Understands and complies with all policies, procedures, standards and guidance relevant to assigned job responsibilities
Ability to gain working knowledge of bank products and services.
Ability to read, write, speak and understand English well. Excellent written and oral communication skills
Valid driver's license, proof of insurance, and access to reliable transportation; or the ability to access and utilize an alternative method of transportation, when needed, to carry out job-related essential functions and attend required training.
Working Environment/Conditions:
Climate controlled office environment.
Work requires regular attendance, punctuality and adherence to agreed-upon schedule with willingness to work a flexible and/or rotating schedule. May be required to work extended hours, as needed.
May be exposed to potential risk and hazards associated with criminal activity (e.g., robbery and/or attempted robbery, fraud, security) - receives detailed instruction to minimize risk.
Physical Demands/Effort:
Work may involve the constant use of computer screens, reading of reports, and sitting throughout the day.
Ability to operate a computer keyboard, multi-line telephone, photocopier, scanner, facsimile, fine count cash and operate a cash counter which often requires dexterity of hands and fingers with repetitive wrist and hand motion.
Ability to stand or sit for extended periods of time and duration of shift.
Ability to occasionally kneel, reach, bend, push, pull and carry.
Occasional lifting to independently move or transport money and coin, 25-50 lbs., or files and/or boxes 5-10 lbs.
The above statements are intended to describe the general nature and level of work being performed and are not an exclusive list of all qualifications for this position.
Heritage Bank is an Equal Opportunity Employer
All qualified applicants will receive consideration for employment without regard to race, color, religion, sex, sexual orientation, gender identity, national origin, age, protected veteran status, disability, or any other basis protected by applicable law.
Job applicants have certain legal rights. Please click here for information regarding these rights.
If you need assistance completing the online application, please email: HBRecruiting@HeritageBankNW.com
Salary Range Disclaimer
The base salary range represents the min, mid and max of Heritage Bank's salary range for this position. Actual salaries will vary depending on factors including, but not limited to, qualifications, experience, and job performance. The range listed is just one component of Heritage Bank's total compensation package for full time and part time employees. Depending on position, other total compensation rewards may include, monthly, quarterly or annual incentive, and/or bonuses.